Walking through the tragedy while listening to students and community members from May 4, 1970.
By Cameron Gorman
Video by Zack Davis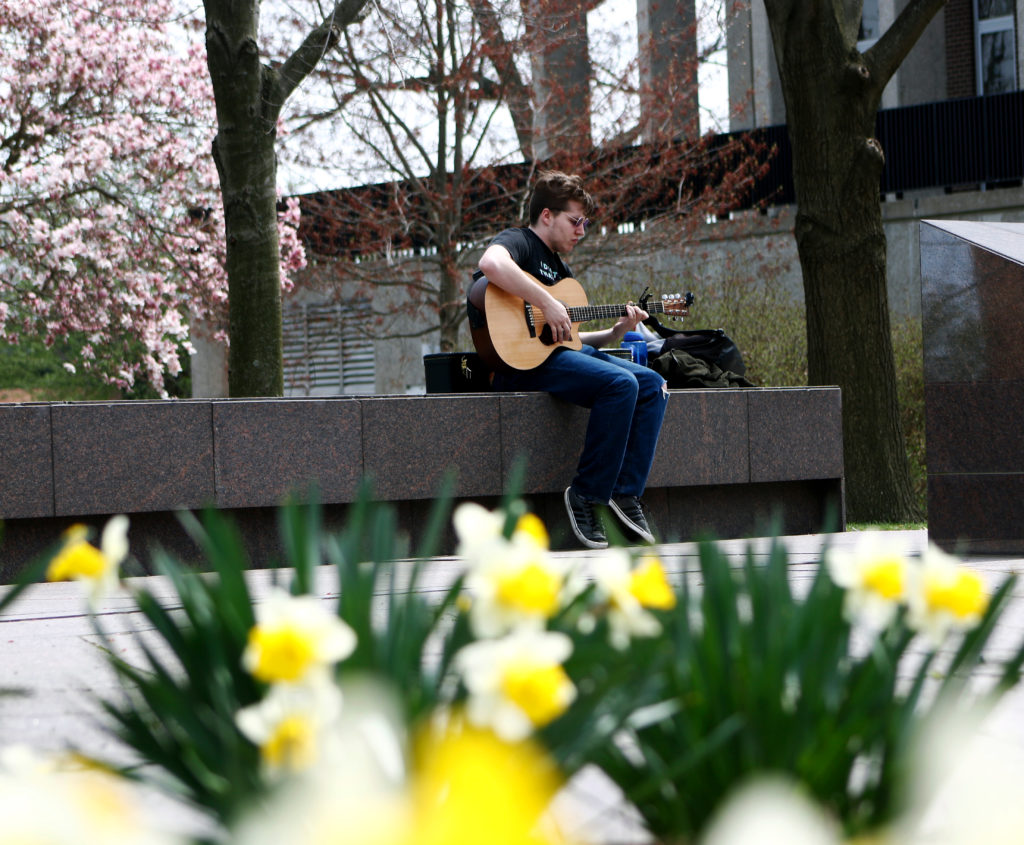 My mother took me to the May 4 Museum, on Kent State's campus, before I was a student here. She wanted me to see the history of the place, to feel connected to it. I can't remember exactly what she said, but it was probably something like this: "It was an important moment in history! You'll be part of it." After all, soon, I would be a student. Me, in a Kent State T-shirt. A Golden Flash.

I think it must have been because she went here, too, back in the nineties. When I got in, totally unsure of my place and decision to keep myself at Kent, she seemed the opposite — certain that I would find something around the campus that I hadn't been able to find in the confines of my hometown, with its quiet, hot summers and low-glow winters.

When she had gone to Kent, she told me, the entire downtown area had been different. Broken, in a way, dilapidated. The bars and restaurants had names like "something-mushroom." (So my mother says. It's The Stuffed Mushroom, her partner corrects.) and The Robin Hood. Some of them were the same, like The Loft and Ray's, but the campus didn't branch into the city in the same way that it does now. And May 4 — it was present, but different. The vigils, held every year, were mostly student-led. Flowers on the hill, a smaller group of people.

And so, we went to the museum, and stood looking at the timeline on the wall. Photos of people with long hair standing next to their parents, with their military crew cuts. Walls taken up completely with full-color prints of busses painted tie-dye, covered in loving kids. When I thought about Kent State, it wasn't what I pictured.


Cameron Gorman
All my life, I had known Kent as a sort of next step — the place where most of the kids from my high school would end up going for college, even as they professed a deep desire to escape to a major city. I had been there as a teenager, walked around the thick restaurant district with my friends for my 16th birthday, eating chips at Fresco and wandering around boutiques with only dollar bills in our pockets. In here, the dark, mood-lit museum, everything seemed different.

By the time we got to the last part of the tour — a video narration about the tragedy, overlaid by a map and photos from the day — I felt as though something in my stomach was welling up. The impact, something I might have been able to ignore previously in favor of that old schoolyard chant — "Kent Read, Kent Write, Kent State!" was seeping into me, past my shoes. I felt a little bit sick — outside, on the same hill we could see from the center, it was green as summer. In this video, the grass was gray.

"When you do go there, yeah, you get a good feel for what really happened," said Alan Canfora. Among other things, Canfora is the director of the Kent May 4 Center and an expert on the May 4 tragedy. He was also shot that day, in the wrist.

"I think people who go to Kent State University should become aware of, you know, what happened to their fellow students. And I think that's why some students really do make a connection to the event, and to the tragedy because they understand that these were four young students just like themselves, age … 19 and 20, and they understand that these students had the same hopes and dreams, and they were just gunned down one day out of the blue, based on governmental abuse of power," Canfora said.

The summer passed, and I did go to school at Kent State, becoming almost immediately enmeshed in the paper, writing all the time. Mornings passed — in the spring, the ground muddy, daffodils pushing their waving yellow heads from the ground — in the winter, a hawk tearing at what might have been a squirrel on the barren hill. I cannot know how many times I, walking to class, to a party, to meet up with a friend, passed the spots in the parking lots outlined with light posts, to mark where the four students died on May 4. How many times I have hiked up the hill to get to meetings, all the while stepping on the same distant outlines as the footprints of all those people before me.

"I think everybody has to pause, especially like you, when you go past that area," Canfora said to me, "pause and think about those four students. I think that's very appropriate."

Though I was able to put it to the side of my mind for so many years, there has always been a part of me that cannot let go of the ghost of that spring day in 1970, twenty-seven years before I would be born. And so, I have walked carefully — my eyes lingering over the spaces between cars, the cement steps leading to Taylor Hall's terrace.

It has been four years since my mother took me to the museum, and just this year, I found something. Online, in Kent State's May 4 archives, is an extensive record of voices.

"I made a suggestion — my suggestion was that we would try to capture oral histories with people — anyone who wanted to come back," said Sandra Perlman Halem, one of the originators of the project, "Anyone who wanted to give them … it wasn't simply going to be about people who were there, or people who were protesting. It was going to be anyone in the community, anyone anywhere in the world who were affected and wanted to talk about what happened at that point in time to them."

The project was started, Halem says, at least a full year before the commemoration in 1990. It's an audio history of first-person accounts and memories of the events of May 4 — hours and hours of footage recorded in places like the Student Center, according to Halem.

But those histories, Cara Gilgenbach, the head of Special Collections and Archives told me, were few in number — and some are restricted. That was when Halem stepped in, starting a new wave of histories archived at the library's special collections.

"The oral histories — they're very affecting because they're very unique compared to other primary or archival resources that we offer that tend to be document-based or photograph-based. I mean, they're much more dynamic, because you can listen to a person telling their story, and you can also at the same time read this transcript," Gilgenbach said.

Halem remembers recording some of them.

"As the day went on, people came, and left stories … of how they were young, and they always said it as if they were there," Halem said. "… And most of the oral histories and most of PTSD is about being — you're in the present tense when you're telling them. And they were there. And I always knew that I felt that way. And that's what I think your talking about being on campus is. In that place, you are in the present tense."

I scrolled through the transcripts, sorted by name. Lists upon lists, tiny spatterings of memory in my web browser. Something felt bigger here. That same rushing feeling as I had as a high school almost-graduate, standing and staring at the hat that had belonged to one of the women killed that day. Only a bit older than me then — only a bit younger than I am now. Outside was the place. Here were the tapes. I did a funny thing, and I took them with me. And I listened.

________________________
The Victory Bell

I walk to the Victory Bell from Oscar Ritchie Hall. On the half-dead March grass, my feet look far too informal in their winter duck boots, and the ground seems softer than it has yet this year. On my right, two kids are walking past the shell of the old art building to the new one, with its fancy bathrooms and light-vaulted white hallways.

I've always gotten shivers when coming across old places — chills up my back and down through my shoulders. Here is no different. The field is moving under me, disappearing, moving me closer to the bell, a green-yellow-hay conveyor belt. The thing itself is squat — I always thought the name sounded much more grandiose than the structure — a giant bell, built into the dwarven section of a brick wall. The plaque built into it dedicates it in 1955. I wonder if the gold metal was here that day — what it saw, glinting in the spring light.

I reach for my pen, trying to think of how I might want to record this, and realize, with a sinking feeling, that I've forgotten my pen. Already, the cold is biting at my fingers, and I turn with a start back to my car. I am about halfway across the field from the bell when I stop — a flash of blue plastic embedded in the ground, maybe left there from the melting snow. Maybe there since fall. I dig it out of the Muddy March ground, and take off the cap. Scribble it into the paper. It still works. My earbuds go in, and somehow, the barely-moving day is drowned out. The sound of a voice fills my ears.

Catherine Delattre: So that was it. We went and we were in, we were pretty much behind the [Victory] Bell. We were observers at that point, when the rally started. We were definitely observers.

I imagine standing here, watching. Observing, Catherine says, as things escalated. The familiar din of the campus behind me morphing somehow, insidiously. The bell looks so solid there, so ready to remain unfazed in the wake of anything. And it has, I remind myself. It is still here. The kids are not.

Catherine Delattre: Never did we feel that there was an immediate threat to the Guard. These guys had guns. Now, we didn't think there were bullets in them, but still they had a very threatening look with the guns and the masks and the uniforms. Scary.

Scary, I think. I put my hand on the handle of the bell, and feel the icy metal. Above me, on the path, people are still passing, on their way to classes as if, for a moment, the hill has not been transported back on the whim of Catherine's memory. Someone makes eye contact with me, I think, but I can't be sure. I pull the bell back, and, at first, no sound comes. I pull harder. There. It rings, so loud that it thrums in my ears — reverberates after, thrumming in my ears.

Behind the bell, I walk up the beaten path to Taylor Hall — the muddy track where so many students over the years have trampled the grass down to giving up. I am following Catherine as best I can.

Catherine Delattre: So we were moving, people were throwing the tear gas back but the crowd was – there were some people close, but there was a majority of the students were really pushing away, as they threw tear gas and as they moved up the hill, the crowd was moving up over the hill and down toward the practice field.

My legs ache as I hike up, almost a straight line to the top of the hill. Catherine is saying something now, about her boyfriend grabbing her — throwing her to the ground to save her, about how she got up and started to run, to run, to run. That nothing could have stopped her. I am facing the memorial pole in the parking lot now — stones piled on its top, as if in tribute or remembrance. I turn back to Taylor.

Cameron Gorman
Taylor Hall

It is so cold now, to me, who is easily chilled, that I step inside the lobby of Taylor Hall, and close the door behind me. The warmth of the heating envelopes me, and I fumble with my phone, finding the next recording. When it comes on, I push on the doors, and the cold air hits me in the face.

Ellis Berns: It was thick with tear gas. I was kind of at the top where Taylor Hall was, looking down. The great picture where it shows the students looking down. The National Guard was basically, if there was a time for them that they were in danger it was probably that time, because they truly were surrounded.

I look down from Taylor — down to the bottom of the hill, where I imagine the guard advancing. Here, it is true. The hill forms a green bowl, it cradles a cup of what is green in May. From here, students are moving around and around the rim of the valley, ants on wooden beams. I picture standing shoulder to shoulder to someone here — how it might dispel the cold, push it to the ends of my feet instead of letting it pool in my chest, and turn.
There is only one place to go from here — as there was only one place to go then, too, as the National Guardsmen advanced, lobbing tear gas, and suddenly, as I turn, my stomach clenches.


Cameron Gorman
My feet are moving, slowly, and I get the terrible impression that some part of this is on a string — I am being pushed by the wind, the memories of so many people, back — in the same patterns, in the same footsteps. And then I see the markers, and the weather is forgotten.

I have heard before that the Earth has a memory. That ghosts can be seen with their legs cut off to the knee, ancient Roman soldiers marching on an ancient road below the new one. I move, my legs amputated. I walk to William's Marker, and think it must be impossible for me not to have been exactly where he was before he died.

At the marker, there are cones set up, as if it is under construction, or has been parked on. (I find out later that someone has hit one of the light poles with a car.) I wheel around, looking, looking. And then I find her.

Sandy's Marker

People used to park here, I think. People must have parked here. I sit down, on the black asphalt, next to one of the lights that blocks off a coffin-shaped space on the ground, and turn on the tape. Gravel bites into my thighs. My body feels still.

Ellis Berns: We both hit the ground. I had my arm around her, my left arm around her. We both were kind of diving, if you will, towards cover. Not sure why, other than we just knew we didn't want to be standing. We dove for cover, and I remember waiting until I felt it was safe to get up. Until we felt like the shooting was over. You didn't know it was shooting. It felt like it was shooting. You knew it was some kind of shooting. So you waited, and I couldn't even begin to tell you how long we waited for. But we waited.

My gaze drifts to the space between the lights, that thick pavement, and the black must be too much — the space and nothing too much — because I realize I am staring at the skeleton of a leaf as I listen, tracing the outline of its dead spine with my eyes. In the tape, the narrator, Ellis, says he had long hair. I wonder if it was longer than mine.

Ellis Berns: I remember I had my arm around her, and she was laying on her stomach face down. I remember calling out to her, "Sandy, it's over. Let's go, let's go." I remember calling out to her, and there was no response. And then I looked. And then I realized that I believe she had been, she was hit, I think it was the left side or the right side? I think it was the right side. I could be a little off on this. [pause] It had to be the right side. The right side, because the bullet had not just grazed her but had severed a carotid artery. So there was a lot of blood.

Would blood soak into the parking lot, or would it roll over it? Would you be able to hear someone screaming in the middle of all that noise? Something is in the air. People in cars are pulling past me, trying to find parking. I don't think they see me — small against the ground, sitting so close to this spot. I wonder if the ground inside the ring — the ring I don't let even my fingers cross — I wonder if it was as hard as this ground is now, under my body. What could someone see from this spot? Ohio gray sky. Trees. Ohio sky.

Ellis Berns: So that was it. There are some accounts, I believe I have heard that she actually had a heartbeat to the hospital, but I can't attest to that at all. In my mind, she had died right there.

Her last moments, I think, were here. And yet, the side of one of the light posts flakes with red rust. My throat feels tight, and I pull myself up. I know where I'm going now.

Jeff's Marker

From Sandy's spot, I can see the markers of where Jeff died. But I am not heading there, not yet. I walk past, and up the concrete stairs to the back of Taylor Hall. I shut the door behind me, and switch on the tape.

Chuck Ayers: I went back up the same stairwell I'd come out, I came back out the same door, and the very first thing I saw was Jeff Miller in the street. Initially, I found out when he fell he was face-down, chest-down, his head to the side, and somebody had turned him over, and there were several people kneeling around him, and there was already this river of blood rolling down, I mean it must have been 12 to 15 feet long at that time.

I have opened the door, and I am standing on the steps. From here, I can see the four markers that surround where he would have fallen. (They are the length of a human body, laying on the ground.) I think I have seen this photograph before — black and white, the back of someone, crushed under the weight of death. The blood, black in the film, rolling away in a torrent down the uneven ground. But maybe I made it up in my mind, I think — the voice in my ears anchors me to the spot.

Chuck Ayers: I was 22. And there was this guy in the street, and I kept saying to myself, No, he's not dead, they'll patch him up, he'll be okay. And I just remember looking at how utterly limp he was–and they had pulled his shirt up–and how absolutely hollow his stomach looked.

I walk down the stairs, slowly, toward the place near the grass. People pass me on either side. My eyes are straight ahead, and by the time I get to the place Jeff died, I want to kneel, but I am too afraid — I don't want others to question why I'm lingering, or think I'm being disrespectful. Chuck says he was 22, looking at his bleeding body from the doorway. I am 22, too. But now, the space is empty.

Olson Hall

The cold is catching up with me. I walk away from Jeff and Sandy, and toward the other side of campus. The last tape, I know, is not on the hill at all. It is supposed to be in Olson Hall — somewhere I lived once, when I was a junior. It had always felt cold to me — unwelcoming. I spent all my time away from it.

Naomi Goelman Etzkin: When we heard the gunshots, we did not believe that they were real bullets. We thought they were shooting in the air, and we just didn't believe that bullets could be real. And we went running back to our dormitory, and we watched out the fourth floor window in Olson Hall as the ambulances came over the hill.

You could see the sidewalk from the bathrooms of Olson Hall — pull open the frosted glass panes and peer down onto the street to people watch. I remember thinking I could have written a letter and dropped it to let it sway in the air.

Naomi Goelman Etzkin: So I went back to Olson Hall, and I was the only one left in the dorm who was a resident. The National Guardsmen were having dinner in our cafeteria. And I sat down at dinner, and a couple of them came and joined me. The guys who I was having dinner with were not the people who had shot because it was my understanding that they were whisked away. The guys that I had dinner with were people my age who went into the National Guard so they didn't have to go to Vietnam, and they felt a deep sense of horror over what had happened.

I sit on a table outside of Olson, and watch students come and go. There was no dining hall when I lived here. I imagine opening the door to a silent hall — the same feeling as the deserted dorms in the summer, undercut with something else. A burning. I get up, halfway through the tape, and start to walk away. On my left, the old art building again, and its yellow insect shell. Again, the hill rises in the distance, Naomi in my ears.

Naomi Goelman Etzkin: And two weeks later we were told to come back and pack up our bags, in a matter of four hours. And then we finished our courses by correspondence. The campus was never the same.

I am cutting through, to the parking lot, across crabgrass and pinecones, and suddenly, I am halfway to the field, when I cannot hear her anymore.

The sound in my earbuds cuts out, buzzes free, and I am left with the sound of my own feet, the sound of my walking on the cold ground.

________________________

I dial my mother on the phone in a coffee shop. Outside, though I thought spring had finally broken through the frost of winter, snow is coming down in flurries. On the phone with her, I ask her. Why did you take me? The connection is bad, or else she can't hear very well over the phone, and I have to repeat myself.

Oh, that's right. Yes, she remembers. We all went as a group that one time.

Yes, that's right. And why?

"I think it's a very important part of history," my mother says. She says we would never want it to be recreated. People send their kids to college, thinking it's safe. "Dead people on campus, dead young people on campus," just demonstrating for peace, killed by our own military. We can't let ourselves repeat this history. This is what she tells me.

I think back to the ground by Sandra's marker, and the cars passing me by, and the feeling that the sky must be very much the same one as she saw that day, walking back from the hill. Myself, in the May 4 museum, feeling for the first time as though I was about to be a part of something much greater than I had realized I would be.

Sometimes, when I am in places I have been before, I feel a shivering in my back and up to my head. A form of bodily Deja-vu, the same feeling as I once had walking through the abandoned backyard of my neighbor's house — somewhere I had played as a child. I get the feeling it must be a head-rush, the sudden realization that I am making an impression in the same place as I did before — that if I could just pull time together like a sheet, pinch two sides of it and stick them to each other, that I could reach out and touch the memory of myself.

Sitting near Sandra's marker, I thought about that again. In 2019, a college student, sitting in the spot in the parking lot where in 1970, another college student lost her life. But I could get up, could walk forward and move away, could put myself out of the cold. I am older than Sandra will ever be. I was born in 1997 by chance. Things could have been different, so easily. So easily, I am the one who cannot get up anymore. \
All excerpts from recording transcripts are courtesy of the Kent State Shootings: Oral History Project. Kent State University Libraries. Special Collections and Archives.