A look at some of the members of the abiding May 4th Task Force at Kent State.
By Henry Palattella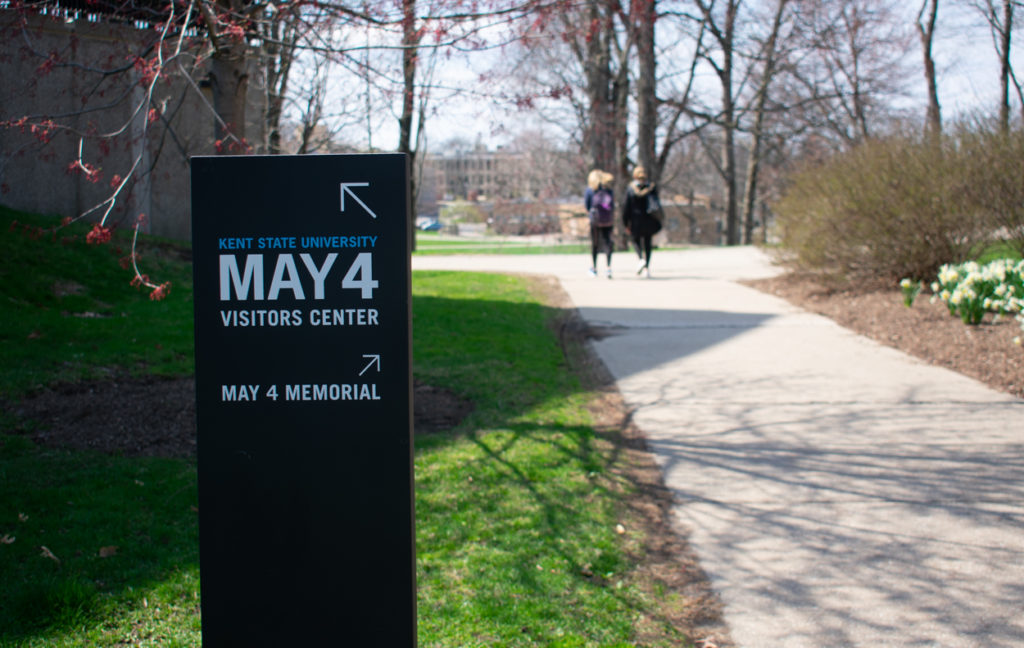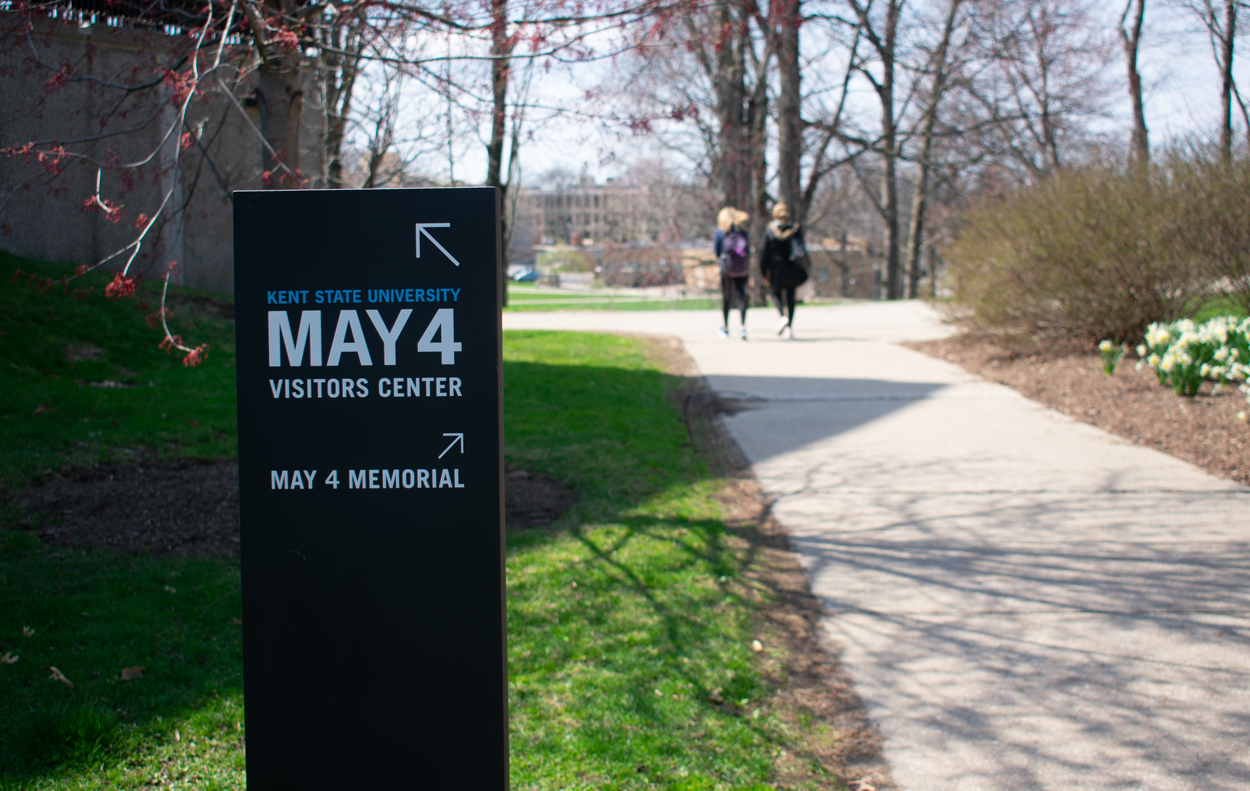 The May 4th Task Force was started in 1975 to help plan the annual commemoration on Kent State's campus for the shootings that occurred on May 4th, 1970. The group also seeks to continue educating the student body on the importance of what occurred on May 4th while also taking action and activism towards current day issues.

The group is one that goes across many different age groups and backgrounds. It's one of the most, if not the most, dynamic group on campus. The future of the Task Force is in jeopardy, these are some of the people working to keep the Task Force going.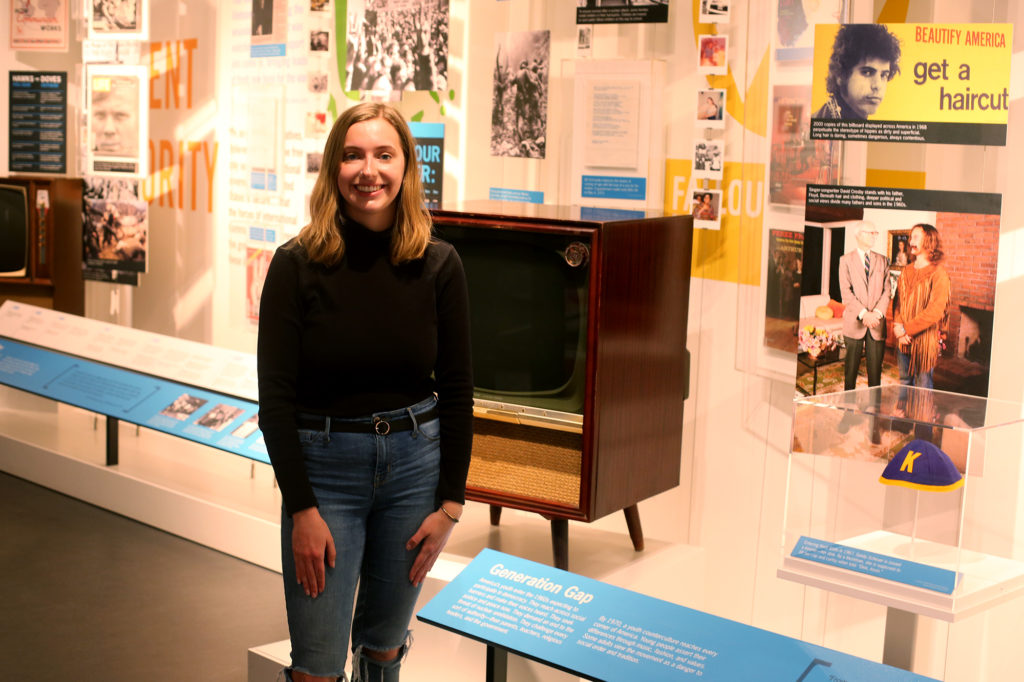 Maddie Camp chairs the May 4th Task Force. By Austin Mariasy
Maddie Camp

Maddie Camp first found out about the May 4th Task Force through a class. She took Kent State's "May 4 and Its Aftermath" class last Spring. It was through there that she found out about the Task Force and subsequently attended "one or two meetings" to help the Task Force plan the upcoming May 4 commemoration.

Before she knew it, she was the chair of the organization.

Camp, a sophomore political science major from Sheffield Lake, Ohio, still serves as the chair of the May 4 Task Force, and is charged with guiding the Task Force through not only it's planning of the May 4 commemoration, but also in its dealings with the University.

Camp's affinity towards keeping the message of May 4 alive was something that started when she got to Kent.

"I didn't know very much," Camp said about her knowledge of May 4 heading into Kent. "I probably could have told you that some people were shot, but I literally knew nothing about it. I think I knew it had to do with the Vietnam War. I think if I hadn't taken the class, I probably would have not been involved with May 4th at all."

As the chair, Camp is in charge of a group of people that consists of both students and community members, many of whom are three or four generations removed from Camp herself. The group also deals with some people and terms that can be tough to grasp for newcomers.

"Student involvement is really important, but the fact that this group has remained for 45 years is a testament to the fact that even if numbers are low, this group will continue to exist."

– Maddie Camp
"It's definitely tough," Camp said. "I've had some friends come by and feel a little bit intimidated. there's a lot of names that get thrown around that most students probably don't know. It's kind of like a learning curve to not be afraid to speak up and ask who the heck they're talking about."

Camp wants to work in public policy upon graduation, and said she believes her time with the Task Force is helping prepare her for that.

"I definitely think that I'm gaining valuable skills right now in terms of working through things since we're a very small body that's sometimes working against a University. And I think that I'm learning a lot about how to sort of facilitate conversation and how to work through issues when it seems like there's no like options."

One of the biggest lasting messages Camp has taken away from her time with the Task Force is that no matter what year it is, the political climate always seems to come back to a theme from May 4.

"I think it's just important to know that it's like a living legacy," she said. "I think it's just important to know that the Task Force is relevant no matter what year it is or no matter what's going on."

And while the group is made up of more community members compared to students, Camp believes the group will continue keeping the legacy of May 4 alive — regardless who the members are.

As the University moves towards wanting to take control of the May 4 comeration, Camp's job as the president could change. As the Task Force goes through a mini- youth movement, Camp's job might be more important than ever.

"In the last couple of weeks we've seen a lot more students coming and I think people tend to get hung up on that aspect of it," Camp said. "Student involvement is really important, but the fact that this group has remained for 45 years is a testament to the fact that even if numbers are low, this group will continue to exist."

Jane Malaime

When Janet Malaime became the president of the May 4th Task Force in 2016, one of her goals was to make the group more reflective of activism happening in the present day. That idea was reflected when Malaime got Sameria Rice to speak at the May 4th Ceremony in 2016.

"I had people calling my phone to argue, people sending me nasty emails," Malaime said with a laugh. "I knew the whole time that what I was doing was the right thing."

Prior to her speech, student activists from all over campus clad in black sat in front of the stage to protect Rice.

"I think that made it very clear that I was a part of something that could a force of good in the world," she said.

Malaime is a 2017 graduate of Kent State who is now an alumni member of the May 4 Task Force. Malaime, who says she knew she wanted to stay with the Task Force upon graduation is the lifeblood of the Task Force. The respect she garners is palpable at meetings. When she speaks, the room grows quiet since, it's clear that she'll do whatever is best for the group. In addition she also serves the Task Force in numerous different ways, serving as a veteran voice who helps keep the meetings on track while also helping new members get ingrained in the group.

"It took me a while, even as president, to feel like I knew what I was doing," Malaime says. "I just try to help everyone."

As the Task Force has gone through a period of uncertainty through its future, Malaime has been one of the most vocal voices at the meetings, speaking up for what she does (or doesn't) believe in.
In addition to making the group more involved in current activism, Malaime's other goal as president was to make the group more open to women and children. And while she admits that the group can still go further, the Task Force's diversity is evident at their meetings.

Malaime found out about the task force during her freshman year at Kent State when she went on a walking tour led by Alan Canfora. She's been in the Task Force since.

"It was really cool to see that there was a group working towards keep it alive because it let me be a part of history," Malaime says.
Benjamin Smith

Benjamin Smith also found out about the Task Force through the May 4th and Its Aftermath class. Smith, an alumni member of the Task Force who graduated in 2017 with a degree in Peace and Conflict Management, first got involved in the spring semester in 2016.

Smith said that his background in conflict management has allowed him to wear many hats with the Task Force.

"I bring my conflict management background and the knowledge from all the reading i've done at May 4," Smith said. "I'm also comfortable speaking so I've gone to classes numerous to speak about the Task Force. I've given tours to groups before."

Despite his background in public speaking, Smith is more of a reserved figure at the meetings, electing to sit back and observe the discussions happening in front of him. When Smith does speak, however, people listen. He's a respected figure in the group who is passionate about the Task Force's place in the University in present day.

This makes sense considering Smith was a student activist during his time as an undergraduate at Kent State. That's changed as he's transitioned to an alumni member, as his view of the group has changed.

"(My role now) is a lot less of the student activist side of things and more connecting with the community," Smith says.

As the 50th anniversary creeps closer and all of the fanfare surrounding it begins to enter the daily life of the Task Force, Smith has an idea of what he wants the main message to be.

"Our biggest priority is to keep May 4th what it's always been about which is civil rights and social justice issues," he said. "We need to make sure that isn't lost in the fanfare of the 50th commemoration and onward."

Smith's background with the group, along with what he's learned through his major, makes him the perfect person to help with a group that can sometimes butt heads.

"Good conflict resolution skills and patience are the biggest things (I bring)," Smith says. "There's a lot of conflict that arises in a group that spans so many generations."