What do the songs mean beyond their melodies?
By Adriona Murphy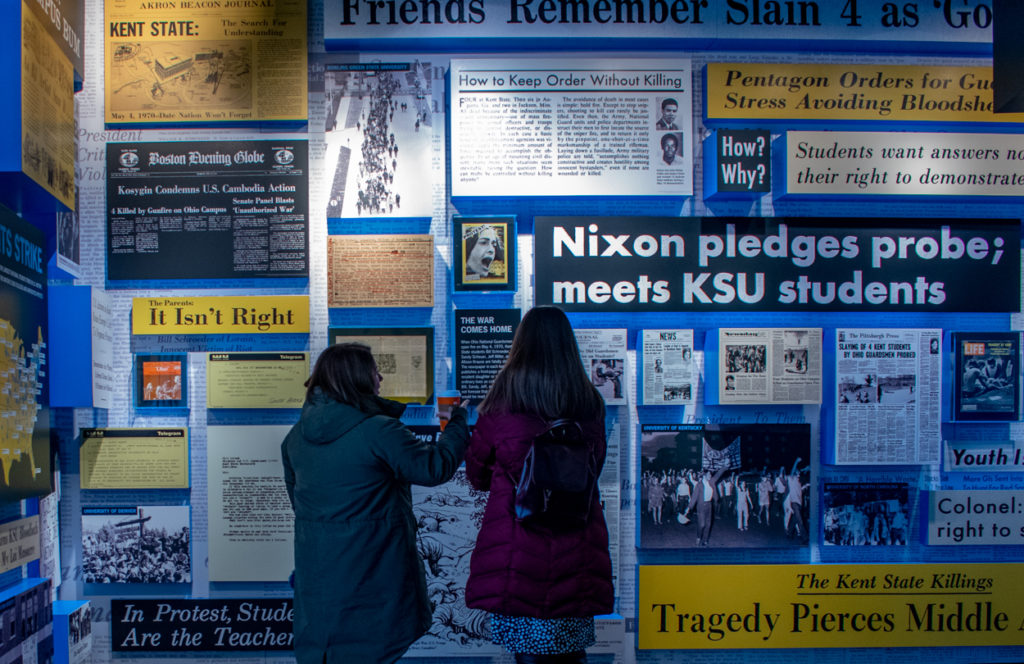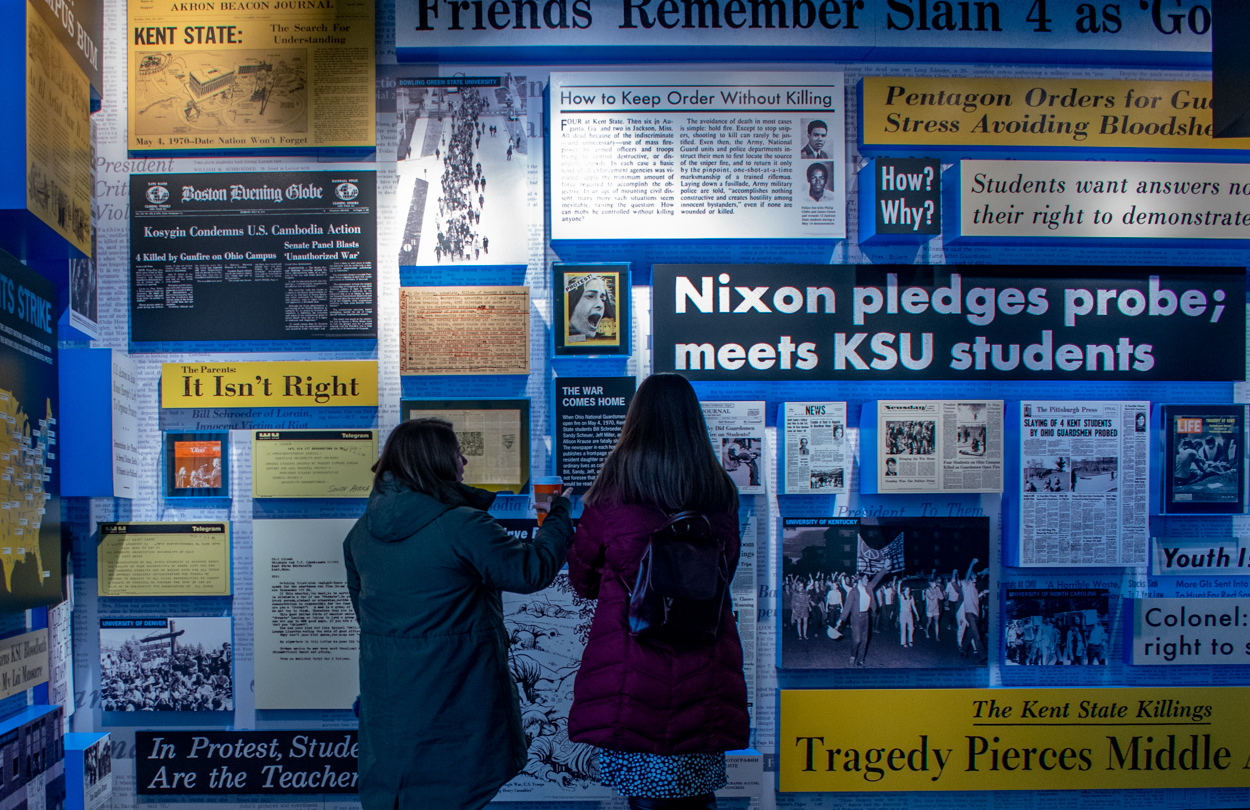 When tragedy strikes, music is often a place where it is immortalized. The aftermath of the tragedy at Kent State University on May 4th, 1970 caused national outrage and continued the ever growing sentiment of that generation. Because of the role it played in furthering the resistance to actions taken by the United State in the Vietnam War, it became a feature in several songs throughout the 1970s.

One of the first facts I knew about May 4th was that the song "Ohio" by Crosby, Stills, Nash and Young, was written in reaction to the shooting.

Gotta get down to it/soldiers are cutting us down/should have been done long ago/what if you knew her/and found her dead on the ground/how can you run when you know?

Tin soldiers and Nixon coming/we're finally on our own/this summer I hear the drumming/four dead in Ohio

I didn't feel like I really cared about May 4th until I went to the May 4 Center and watched the video of the day accompanied by the song "Ohio." I remember just feeling so incredibly sad, like there was this heaviness sitting in the middle of my chest.
It's hard connecting to traumas, when it seems like you're pretty far removed from it all. I wasn't even alive in the 70's, so why should I care? How can I care? I didn't have any family that lived in this area at the time and didn't even know about it until I came to college. If there's one thing that evokes emotion though, it's music. It's like poetry with background music; the words and instruments blend together to create something that has the ability to move you.

"For me, I didn't feel like I really cared about May 4th until I went to the May 4 Center and watched a video in class of the day accompanied by the song "Ohio." I remember just feeling so incredibly sad, like there was this heaviness sitting in the middle of my chest. Seeing the buildings I walked past everyday, and even lived in, as a part of this groundbreaking day in history was a lot to take in all at once, especially as a freshman in college. There's something so raw about hearing a story told through music, and the songs pertaining to May 4 are no different.

This protest anthem is one of the only songs completely dedicated to the incident and is by far the most well-known and most talked about. It has been hailed by many as one of, if not the best, protest record of all time. Although it was praised by many, and has continued to be, Ohio Governor James Rhodes ordered the state's radio stations to ban the song. However, that didn't stop every station from playing it as the song and the events that inspired it continued to gain traction. But it's not the only piece to reference the shooting in a profound way, especially by a popular group.

In 1971, The Beach Boys (yes, the same Beach Boys who were the soundtrack to every summertime drive in my grandpa's pick up truck and family beach vacations) released a song called "Student Demonstration Time."

This particular song references four other instances in which police or military intervened in student protests: the Free Speech Movement at the University of California, Berkeley; Bloody Thursday at People's Park in Berkeley, the Isla Vista riots in Santa Barbara and the Jackson State shootings.

Starting out with Berkeley Free Speech/and later on at People's Park/The winds of change fanned into flames/Student demonstrations spark/ Down to Isla Vista where police felt so harassed/They called the special riot squad of the L. A. County Sheriff

Well there's a riot going on/There's a riot going on/There's a riot going on/Student demonstration time

The violence spread down South to where Jackson State brothers/Learned not to say nasty things about Southern policemen's mothers/Nothing much was said about it and really next to nothing done/The pen is mightier than the sword, but no match for a gun

Well there's a riot going on/There's a riot going on/Well there's a riot going on/Cause it's student demonstration time

America was stunned on May 4, 1970/When rally turned to riot up at Kent State University/They said the students scared the Guard/Though the troops were battle dressed/Four martyrs earned a new degree/The Bachelor of Bullets/I know we're all fed up with useless wars and racial strife/But next time there's a riot, well, you best stay out of sight

There were mixed reviews for this particular piece, some even called it a "clumsy attempt to comment on civic unrest". For me, this song was even more impactful than "Ohio" because the verses and the last line of the chorus sound like they are being sung through a bullhorn, a tool you often think of when it comes to protests and demonstrations. Although "Ohio" is a classic protest anthem, and does encompass the movement through the lens of a specific event, "Student Demonstration Time" has a more of an edge to it that I think reflects the conflict and tenseness of the issue.

Finally, in late 1970, Steve Miller Band (of "Joker") took a dive into the events of not only May 4th, but the Jackson State shootings in their song "Jackson-Kent Blues." Although the production value of this song has been strongly criticized and is significantly less than those of The Beach Boys or Crosby, Stills, Nash and Young, the connections and importance to the events of May 4th are undeniable.

I was down in Nashville just payin' my dues
Headed for Ohio when I read the news
'Bout the people demonstrating 'gainst the President's views
Four were shot down by the National Guard troops
Just like Uncle Sam I put on my fighting shoes
School shot down cause there's no more to lose
Now we're headed to D.C. two by twos
Cause those low down, profound, killin' four blues

But today, I think there's another genre of protest music that's more popular: the one with hope.
Artists who create protest music in today's society tend to have a very different approach than those who were writing songs in the 60s and 70s. Instead of just being a retelling of an incident from a singular issue (many examples of protest music stem from anti-war movements and, in the case of May 4th, anti-vietnam movements), these songs are seeking to show people the injustices and hypocrisies we see everyday. When I think of these songs I think of songs like "Fuck tha Police" by N.W.A., "Killing in the Name" by Rage Against the Machine and "When the President Talks to God" by Bright Eyes, which are very angry in sentiment.

But today, I think there's another genre of protest music that's more popular: the one with hope.

Kendrick Lamar's song "Alright," for example, has more of the message that, yes, things are hard and this situation is completely messed up, but at the end of the day "we gon' be alright." For those who would identify as a part of the "resistance" to social injustices, especially when it comes to race relations and the treatment of black people, Lamar is just one of the musicians that acts as a megaphone for their voices.

One of the standout songs on his album "DAMN", "XXX" delves into intense political strife we have found ourselves in as well as the intense complexities of these issues. When looking at the structure and lyrics of the song, it could be divided into sections. The first of which is a representation of the mindset black youth in America that are surrounded by poverty and crime, this feeling of needing to fight for your life, regardless of what that means. Next, it takes on this feeling of needing to enact revenge after a friend's son is killed. He laments on the idea that no one could mess with his family, and not expect for them to experience the same or worse. The violence in this is starkly contrasted with the line immediately following that says, "alright kids let's talk about gun control."

Finally, as the feature from U2 is introduced, Lamar enters the last section of the song, which continues the narrative of the complexities that we face everyday in America now.

Hail Mary, Jesus and Joseph
The great American flag is wrapped in drag with explosives
Compulsive disorder, sons and daughters
Barricaded blocks and borders
Look what you taught us!
It's murder on my street, your street, back streets
Wall Street, corporate offices
Banks, employees, and bosses with
Homicidal thoughts; Donald Trump's in office
We lost Barack and promised to never doubt him again
But is America honest, or do we bask in sin?
Pass the gin, I mix it with American blood
Then bash him in, you Crippin' or you married to Blood?
I'll ask again—oops, accident
It's nasty when you set us up
Then roll the dice, then bet us up
You overnight the big rifles, then tell Fox to be scared of us
Gang members or terrorists, et cetera, et cetera
America's reflections of me, that's what a mirror does
Lamar is not the only artist to have pieces that represent the complexity of issues like these. Other artists such as Chance the Rapper, Childish Gambino and J. Cole have touched on these both in and out of their music.

Although the songs we have today are powerful in their own right, I don't think anything will be as impactful as the songs that were released in the 50s-70s. During these decades, there were more clearly defined issues, whereas today, there are so many that if you were to ask people what the most important issue is today to tackle, they would all have a different answer. But it's not necessarily a bad thing. Instead of laser focusing on one issue, music today is tackling every issue you can think of: race, immigration, climate change, sexual assault, guns, LGBTQ rights, everything. And that's the beauty of protest music: it can be for anyone, at any time, for anything.

Link to playlist: